The Vatican is peddling lies again about homosexuality and pedophilia in an effort to deflect blame from the Catholic Church for its child sexual abuse epidemic. This time the falsehoods are coming from Secretary of State Cardinal Tarcisio Bertone, also called the Deputy Pope.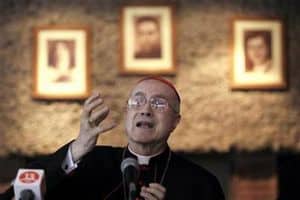 Said Bertone at a news conference in Santiago, Chile: "Many psychologists and psychiatrists have shown that there is no link between celibacy and pedophilia but many others have shown, I have recently been told, that there is a relationship between homosexuality and pedophilia…This pathology is one that touches all categories of people, and priests to a lesser degree in percentage terms. The behavior of the priests in this case, the negative behavior, is very serious, is scandalous."
Here's the AP version of the quote: "Many psychologists and psychiatrists have demonstrated that there is no relation between celibacy and pedophilia. But many others have demonstrated, I have been told recently, that there is a relation between homosexuality and pedophilia. That is true. That is the problem."