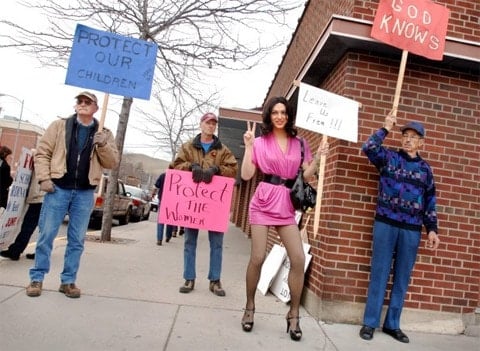 This is a big deal for Montana.
After weeks of contentious debate which saw the formation of groups dedicated to promoting ugly falsehoods regarding transgender people and public bathroom usage (notmybathroom.com) and other groups working to correct those distortions (flushthefear.com), Missoula, Montana last night (early this morning) passed the state's first anti-discrimination ordinance offering protections based on sexual orientation and gender identity.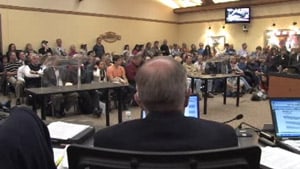 The Missoulian reports:
"In front of citizens who sat through a nearly seven-hour meeting, the council voted 10-2 in favor of the measure – which protects Missoula residents from housing and employment discrimination based on 'actual or perceived … sexual orientation, gender identity or expression.'
The measure passed at 1:45 a.m.
'Hopefully our actions tonight will ripple through Montana from Libby to Billings, from Dillon to Wolf Point, and eventually to the capital in Helena,' said Councilman Dave Strohmaier, another sponsor of the ordinance.
Early in the evening, Mayor John Engen warned people he would recess the meeting if the audience clapped for anyone – for or against the proposal. When the final vote was taken, the pent-up applause erupted and many supporters who remained in the room offered the council a standing ovation."
The debate was emotional, the paper reports. One witness, Taryn Nash, the daughter of Tei Nash, who launched the group Notmybathroom.com, spoke out against her father after traveling from school in Spokane, saying: "Dad. I strongly disagree with the way you have been portraying the LGBT community. You have gone too far. I will not sit back any more and be quiet. I love you because you are my dad, but I have lost respect for you. You need to realize this crusade you are on is wrong, and it affects me personally. Right now I am ashamed to call you my father."
Congratulations to all who worked to get this passed.
(top image by Michael Gallacher – The Missoulian)
Missoula City Council Approves Non-Discrimination Ordinance [missoulian]
Deep Rifts: Residents Pack Missoula Council Meeting on Anti-Discrimination Ordinance [missoulian]