Shannon Barry says she was attacked in an anti-gay hate crime in Edmonton, Alberta: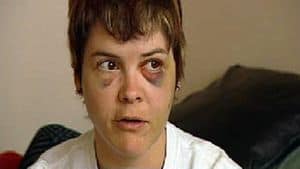 "Barry, 31, is recovering in hospital after surgery to implant two plates in her face. She suffered a broken jaw, a crushed left eye socket and facial nerve damage when she was kicked in the face by a man who hurled sexual epithets at her before the attack.
Barry, who is a lesbian, was walking with five friends along 96th Street near 75th Avenue about 3:30 a.m. Saturday. Four men yelled at them from the other side of the street, calling them 'dykes and faggots,' said one of the women, Denise Gouchie.
The men crossed the street and closed in on the group of women.
'That's when we stopped and turned around,' Gouchie said. 'And I was just saying, 'OK, guys whoa. We're ladies. Everyone calm down,' and then I turned around, and Shannon was on the ground.' Barry, who was drunk, had stumbled and fallen to one knee. When she did, one of the men kicked her in the face.
'It was just like someone drop-kicking a football,' Gouchie said.
The force of the kick flipped Barry on her back and knocked her unconscious for almost five minutes, Gouchie said. The four attackers, who appeared to be between the ages of 16 and 20, quickly fled, she said."
The investigating police officer did not file a report. The reason why is unclear.