For the first time, the Human Rights Campaign has floated the idea of election year consequences from the gay community for congressmen who don't support LGBT measures currently pending in the legislature.
DC Agenda's Chris Johnson reports: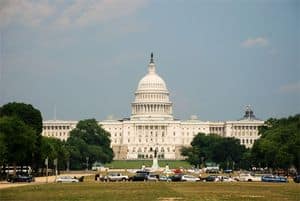 Allison Herwitt, legislative director for the Human Rights Campaign, alluded to potential political consequences if the bills don't advance in this Congress.

"I do think that there will be many LGBT Americans frustrated and disappointed if any of these [bills] don't move," she said. "Even though we don't have a pro-LGBT majority in the House and the Senate — this is our highest majority that we have and we need to obviously capitalize on the members that we have in the House and the Senate to pass legislation. So, in short, I do think that there will be anger in the community."

Herwitt said this anger would likely manifest itself in LGBT voters feeling disconnected from Congress and from the Obama administration.

This disconnect, Herwitt said, could affect political donations or discourage people from getting involved in re-election campaigns as well as "not door knocking, literature dropping, all that kind of stuff."

Herwitt also urged a stronger voice from the White House in advocating for legislation like the Employment Non-Discrimination Act and the Domestic Partner Benefits & Obligations Act, as well as repeal of "Don't Ask, Don't Tell."

"I do think that it is important that the president and the administration do strongly indicate to the House and the Senate their support and their desire to move on ENDA, 'Don't Ask, Don't Tell' and DPBO," she said.
Adds Americablog: "It's hard not to take Herwitt's comments as an indictment of White House Deputy Chief of Staff Jim Messina. He's the White House point person for dealing with liberal groups, and specifically legislation dealing with our issues. If the White House isn't sufficiently standing by its promises to our community, and if there's now a risk of a gay backlash during the fall elections, that falls on Messina's watch, and head..
…But the danger for HRC remains. By finally acknowledging that there's a potential problem, Herwitt only gives credence to the concerns of the gay Netroots over the past year, thus confirming to the gay public, and our allies, that there's a problem. That not only may come back to haunt Democrats in the fall, it may come back to haunt HRC as well. After all, if HRC isn't able to get the White House and the Hill to keep its promises, then people might just be asking whether HRC continues to serve any purpose."