Firefighters responded early this morning to a blaze at Dick and Jane, a gay nightclub in downtown Jackson, Mississippi: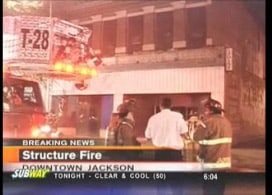 "WLBT was first on scene of the fire, which started just before 5 o'clock Monday morning. Fire officials blocked off Capitol Street for nearly two hours while they worked to control the blaze and investigate the cause.
The street reopened just before 7 AM Monday.
Officials said they were able to get the blaze under control fairly quickly. Division Chief R.D. Simpson said it appears the fire began in the center of the building, near the serving area.
Simpson said no one was inside when the fire began, and no one was injured.
The nightclub's owner said officials told him he may be able to reopen the club by this weekend, but he had not yet seen the inside for himself because firefighters were still working the scene."
Officials have not released any information as to the cause of the fire, though one official said he did not think it was linked to a string of recent fires in downtown Jackson.