Back in May 2009 I posted about the body of a man suspected to be gay which was exhumed from a cemetery in Senegal because people didn't want it buried there. Madieye Diallo's (pictured) body was reportedly dumped in front of the family home. Diallo died because his health failed when he stopped taking his HIV medication. He had stopped taking the medication because he was in hiding during an anti-gay witchhunt after photos of a gay wedding were published in a local tabloid.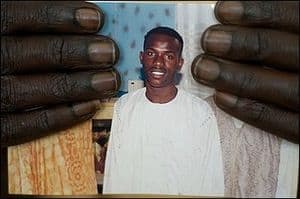 A new article by the AP revisits that story and reports that gays continue to be exhumed in that country, and their bodies desecrated:
"To the long list of abuse meted out to suspected homosexuals in Africa, Senegal has added a new form of degradation – the desecration of their bodies.
In the past two years, at least four men suspected of being gay have been exhumed by angry mobs in cemeteries in Senegal. The violence is especially shocking because Senegal, unlike other countries in the region, is considered a model of tolerance.
'It's jarring to see this happen in Senegal,' says Ryan Thoreson, a fellow at the International Gay and Lesbian Human Rights Commission who has been researching the rise of homophobia here. 'When something like this happens in an established democracy, it's alarming.'
Even though homosexuality is illegal in Senegal, colonial documents indicate the country has long had a clandestine gay community."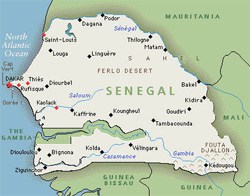 As for what happened to Diallo, the exhumation and desecration of his body was captured on video and posted online:
"The shaky image shows a group of men jerking around the edges of the grave. One of them straddles the pit and shovels away the fine gray dirt until you can see the shrouded body. It's still inside the trough when they tie a rope around its feet.
They yank it out, cheering as the body bends over the lip of the grave. The shroud catches on the ground and tears off, revealing the dead man's torso.
Rassul Djitte, 48, watched from behind the wall of a nearby school. He had not known Diallo personally, but says he felt a stab. "'People were rejoicing,' he says. 'They dragged him past me and his body left tracks in the sand. Like a car passing through snow.'"