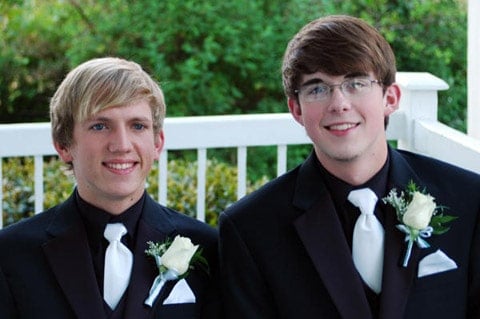 Derrick Martin and boyfriend Richard Goodman's high school prom took place on Saturday, and the world didn't end, the Macon Telegraph reports:
"When Martin, 18, and his boyfriend Richard Goodman, also 18, stepped onto a makeshift 'red carpet' and their names were announced, a few parents whispered but many in the crowd gave him a loud cheer. No one yelled out in protest.
'I wonder if they realize what they've done,' said Arturro Beeche, a San Francisco professor who flew into Georgia on Friday and drove Martin and Goodman to the prom. 'Once it happens in small-town America, it will inspire so many,' he said."
You may recall that Martin's parents kicked him out of the house after news broke that he was taking a gay date to his prom.
Beeche, a college professor from San Francisco, became interested in Martin's story after reading about it in the news and struck up a friendship with Martin on Facebook. Beeche (pictured below) is married to his husband Dave for nearly six years and has an adopted son who is 13.
Beeche sent us these photos and a personal account of the night:
"When first coming in contact with the story of Derrick Martin, I felt compelled to get involved. As someone who wishes his boyfriend had asked him to prom nearly three decades ago, Derrick's decision hit a spot close to my heart. Through Facebook, Derrick and I became friends and I experienced with Derrick his many frustrations and fears leading up to the event, not small among these was the Martins throwing their son out of the family home because he persisted on his quest. It was then that I had a choice – be a bystander or rise to the occasion."
With Derrick's blessing, Beeche became Derrick and his boyfriend's chaperone to the prom. Beeche continues:
"I flew into the maelstrom from my placid suburban existence in the Berkeley Hills. We did not know what to expect, but Derrick figured that it would somehow all work out. The previous day we had driven to fetch Richard Goodman, Derrick's quietly intense boyfriend. Together, we went to fetch their tuxedos in Macon…

…The next day we did some last minute shopping and in the later part of the afternoon, and as the boys were dressing, Richard's parents (pictured) joined us. Once readied, and after taking some photos, we drove to a plantation house that now serves as a delicious Southern food restaurant. More photos were taken on the grounds, after which we drove back into Cochran and headed to Derrick's high school.

There was high law enforcement presence. The sheriff had told me a few days earlier that he was planning on having about 20 officers to prevent any silliness from marring the event. As we drove up to the school drop off point, anxiety and stress were rampant inside our car. Derrick had received some rather unsavory threats that ran the gamut from a gun loaded with a bullet that had his name on it, to being targeted with paint balls guns.

Seconds before they exited the car, I told [them], "close your eyes, take a deep breath and raise your chin with pride. Ignore anyone who yells stupid things; you are here and victory is in your hands." The boys closed their eyes, took a deep breath and Derrick got out first. With his left hand he pulled Richard out of the car and both turned to face the crowd. It was then, amid screams of support and sonorous clapping accompanied by people yelling Derrick's name, that I knew it would all be OK!
Beeche points us to the Facebook group in support of Derrick and Richard set up with the help of PFLAG where these photos have been posted as well. Beeche is helping set up a trust to contribute to Derrick and Richard's college expenses.
Goodman said he plans to take Martin to his prom on May 8.