I Love You Phillip Morris, the long-postponed gay prison romance which was due for release at the end of March, and then delayed till April, has been incarcerated indefinitely.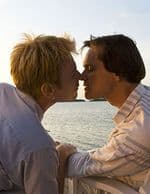 The L.A. Times reports:
"Now a spokeswoman for the film confirms that the movie has been delayed again and in fact won't be coming out at the end of the month. She adds that there is no release date scheduled at this time.
The movie, which comes from 'Bad Santa' writers Glenn Ficarra and John Requa and focuses on a love affair between a con man (Carrey) and his cellmate (Ewan McGregor, playing the titular Phillip Morris), drew mixed reviews on the festival circuit. But it did have its champions, who admired Carrey's willingness to take on difficult (and partly true) subject matter
Movies can sit on the shelf without a distributor for years, but it's rare for a title with such high-profile stars and a fair dollop of media attention not to see the light of day."
Was it the graphic sex?
Oh, just release it to DVD and put it out of its misery.
(via movieline)