A second effort to recall Portland Mayor Sam Adams may fail, with opponents apparently struggling to collect the 32,000 signatures required by 5 pm today.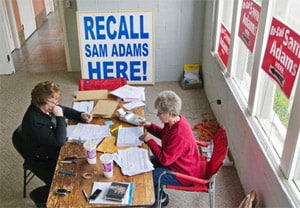 The Oregonian reports: "The recall campaign has struggled, even though it was supposed to have enough money from big-money backers to hire professional signature-gatherers. The first recall attempt, which relied on volunteers, failed in October with a reported 30,000 signatures that were never submitted."
A message on the recall website read, in part: "Thank you for your support over the past year in a movement that demands to bring open, transparent and accountable local government back to our city.
The bottom line is we simply can not recall the first 'openly gay mayor' for lying, no matter how many gay men he had to bring down with him. Though, please know that Sam Adams is the one that sold out the GLBTQ community to solely protect himself. The recall has never been about taking away the hard earned rights of anyone, only about holding elected officials accountable.
Through the recalls, the veil has been removed, that has for too long obscured the dysfunction of how we, as citizens, are systematically manipulated in elections."
KATU says the veracity of that message has been called into question, though chances for recall seem slim: "Over the weekend, the campaign organizers said they were still about 7,000 to 8,000 signatures short of the goal.
Supporters say Adams should be recalled because he lied about his relationship with a teenage legislative intern, Beau Breedlove."