(clip via wonk room)
Mike Huckabee appeared on Rosie O'Donnell's Sirius radio show yesterday to respond to his remarks regarding gay parents, adoption, and foster parents. You may recall that Huckabee recently gave an interview to a paper at the College of New Jersey in which he insulted gays who want to parent, telling them "children are not puppies."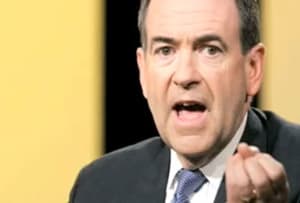 O'Donnell asks Huckabee if his view of adoption precludes gay families.
Says Huckabee: "Well, you know Rosie, again, I think people have to make their own decision about what a family ought to look like and I'm not going to judge you or judge anybody else because I know there are so many loving people who are in same-sex relationships and they have adopted children and they love those kids. I'm not going to judge them. I'm simply not going there."
O'Donnell goes on to say: I haven't mentioned marriage once Mike. I'm mentioning that there are half a million kids in foster care in America. And 99% of them were raised by heterosexual parents. And if there are homosexual people that want to take in and love these discarded children that the state is not raising and taking care of, to have public officials deem homosexuals unworthy of parenting is disastrous for the nation, for equality, and for humanity, and Mike, for Christianity."
Watch, AFTER THE JUMP…