26-year-old Manhattan lighting designer Alejandro Bulaevsky was found dead and bound inside his luxury Financial District apartment yesterday, the NY Daily News reports: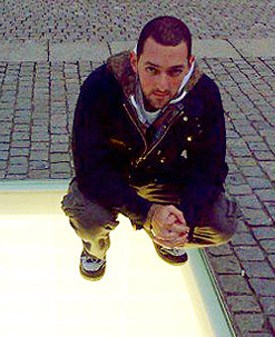 "Crime scene investigators were poring over the studio apartment Monday night, but police sources said Bulaevsky's body bore no apparent signs of trauma and there were no signs of a break-in.Bulaevsky was last seen about 8 p.m. Sunday and failed to show for work Monday, the sources said. His body was found by the building super, who used a key to gain entry to the apartment's locked door. There were no signs that anything had been stolen from the apartment."
NY Post: "Bulaevsky was found wearing a black suit, apparently latex or some type of plastic, and a mask, his hands bound, a law enforcement official said."
WPIX reports: "Police have yet to treat the case as a homicide investigation, but crime scene investigators returned to the apartment at about 3 a.m. Tuesday morning to collect evidence.At this hour, crime scene units remain outside of the apartment building and have removed at least six bags of evidence.The luxury apartment building has a doorman and residents say there is tight security at the location.'I'm shocked. […] The doormen, they're always checking to see who's coming in. It's very secure,' Caitlin McDonnell, who lives at 90 West Street, told PIX11 News. 'They have pictures of everyone who lives at the building, so they're very familiar [with residents].'It is unclear if Bulaevsky lived in apartment 16Y by himself."
WPIX news report, AFTER THE JUMP…