The Massachusetts GOP picked Charles Baker as their gubernatorial candidate on Saturday, defeating convenience store magnate Christy Mihos in the primary. Baker is for marriage equality and has an openly gay running mate — state senator Richard Tisei.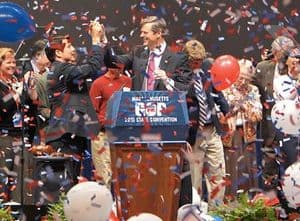 One point of contention between the GOP's team is Tisei's sponsorship of a transgender anti-discrimination bill, which Baker addressed after getting the endorsement:
"At an awkward press conference after Baker won the convention's endorsement, he stood next to Tisei and said he opposed his running mate's legislation and was not concerned about labeling it 'the bathroom bill' — a term used by opponents of gay rights. Baker, who supports gay marriage and abortion rights, denied that he was trying to court social conservatives.
'I think a guy who supports gay marriage and is pro-choice and has been pretty clear on those and picked a gay fella as his running mate is pretty much not pandering to much of anybody,' Baker said, putting a hand on Tisei's shoulder.
Tisei has, in the past, strongly rejected the phrase "bathroom bill,'' saying critics use it to misrepresent the goal of equal rights for transgender people.
'I think they're trying to scare people into opposing the bill and I don't think it's really an issue,' he told his local paper last summer. 'I know it's been dubbed the 'bathroom bill,' but this is really a bill to treat people equally and fairly under the law.'"
You may recall that Tisei came out publicly in November after anticipating the scrutiny that would come as Baker's running mate.