Pope Benedict today urged priests to be messengers of Christ's "victory over evil" today but avoided any acknowledgement today or on Easter Sunday of the clergy sexual abuse scandal which has engulfed the church, or his own complicity in it.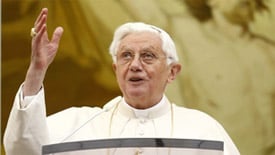 And yet more cases have emerged.
The AP reports: "Documents reviewed by The Associated Press show that as a Vatican cardinal, the future pope took over the abuse case of the Rev. Michael Teta of Tucson, Ariz., then let it languish at the Vatican for years despite repeated pleas from the bishop for the man to be removed from the priesthood.
In another Tucson case, that of Msgr. Robert Trupia, the bishop wrote to then-Cardinal Ratzinger, who would become pope in 2005. Bishop Manuel Moreno called Trupia 'a major risk factor to the children, adolescents and adults that he many have contact with.' There is no indication in the case files that Ratzinger responded.
The details of the two cases come as other allegations emerge that Benedict – as a Vatican cardinal – was part of a culture of cover-up and confidentiality.
'There's no doubt that Ratzinger delayed the defrocking process of dangerous priests who were deemed 'satanic' by their own bishop,' Lynne Cadigan, an attorney who represented two of Teta's victims, said Friday."