There's a lot to enjoy in Kick-Ass, including colorful production design, one or two above par action sequences, Nicolas Cage's bizarrely amusing Adam West (Batman) vocal imitation,  and a winning central performance from Aaron Johnson. But I'm with Roger Ebert on this one. He begins his review memorably with a "Shall I have feelings, or should I pretend to be cool?" preamble and goes on to condemn the film for being morally reprehensible. Isn't it hilarious to watch an 11 year old girl slaughter dozens of people and enjoy it? Um…
Kick-Ass might have played less offensively if it were more heightened. I myself had no trouble with the über violence of Kill BilI, for example, but that film never felt less than stylized and clearly took place within a movie-movie universe. The performances went for blood, too; the violence had repercussions in their lives and would continue to.  But this new would be blockbuster's central conceit "why can't real people be superheroes?" demands an onscreen universe that's close enough to recognize as our own. Kick-Ass himself is basically more worried about whether people will think he's gay than that he's about to start killing people. 
The film betrays its own total love of killing when it keeps abandoning potentially brilliant structural motifs (security cams, youtube videos, etcetera) in order to show us every death blow in closeup full color detail. The nail in the overpopulated coffin is that it even allows one character (a good cop) to voice these concerns about the violence. Better to have played this all for amoral laughs rather than attempt to have things both ways.
BONUS SCENES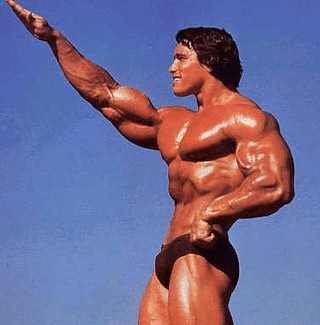 Speaking of violent action heroes… the twisted minds at Pajiba have video-compiled the 160 Greatest Arnold Schwarzenegger Quotes for those longing for the days when Ahnuld was a quotable movie star rather than a politician

Also opening today. James Marsden (yummy) and the mystery of the butt double in Death at a Funeral. I thought the original was a bit homophobic so haven't been interested in the unnecessary remake.

Have you read about the Cannes lineup? Ridley Scott's Robin Hood opens the world's most prestigious film festival next month and Oliver Stone's Wall Street sequel closes it but the actual competition lineup is light on english language films this year. Tim Burton heads the jury to decided the winners from the main competition. Actor/Director/International-Hottie Gael García Bernal heads the jury which crowns the best debut filmmaker.

The Big Picture investigates the Right Wing Hysteria over Glee. 

Is Twitter another seismic shift in the way Hollywood does business and the media relates to said business? The whole model does seem to be in flux doesn't it?