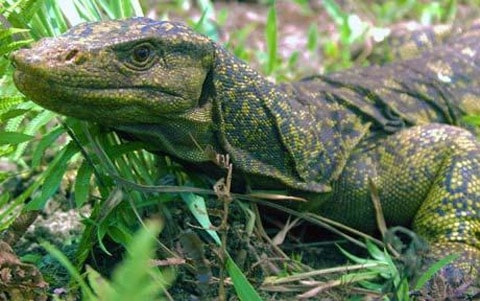 A huge, previously unidentified dragon lizard which lives in trees in the Philippines has been named a new species:
"Discovering such a large vertebrate species is extremely rare, Brown said. The lizard, a new species of the genus Varanus, is skittish and able to hide from humans, its primary predators, which could explain why it has gone undetected by scientists for so long.
Biologists first saw photographs of the big, skinny lizard in 2001, when those surveying the area passed hunters carrying the lizards' colorful carcasses, but the species at that point had never been given a scientific identification.
In the next few years, Brown said, ethnobiologists kept hearing stories 'about these two kinds of lizard that everyone liked to eat because their flesh tasted better than the ones that lived on the ground; this thing was described as bigger and more brightly colored.'"
The lizards can grow up to six feet in length, and have a rare type of sexual anatomy: 
"Its scaly body and legs are a blue-black mottled with pale yellow-green dots, while its tail is marked in alternating segments of black and green.
Males have a double penis, called hemipenes, also found in some snakes and other lizards.
The two penises are often used in alternation, and sometimes contain spines or hooks that serve to anchor the male within the female during intercourse."