Kerry Eleveld follows up her report that White House deputy chief of staff Jim Messina "shut down" chances for "Don't Ask, Don't Tell" repeal in 2010, with another source, who offers a different perspective: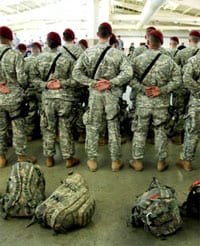 "…Robert Raben of the Raben Group refuted that version of events.
'That wasn't the meeting I was at,' said Raben, who lobbies the White House on immigration reform, abortion, and Supreme Court nominees, and is also a paid strategist for the Human Rights Campaign. 'The idea that Messina 'shut-down' anything is not accurate. They were, if anything, frustratingly cautious about committing to anything.' … Other sources, who were also present at the meeting and spoke anonymously, agreed with the recollection of Raben and the Human Rights Campaign's David Smith, who said on Wednesday, 'They were noncommittal about legislation in that meeting, but not definitively one way or the other.'"
Officials tied to the Human Rights Campaign would have an interest in the narrative of the meeting playing out this way considering HRC President Joe Solmonese has been soliciting money from members of the LGBT community all year on the premise that there was a "clear path" to repeal in 2010.