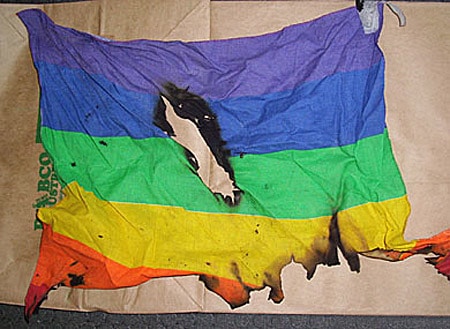 Building staff at New York's Lesbian, Gay, Bisexual & Transgender Community Center arrived at work this morning to find one of the Rainbow Flags that hangs over a poster display case outside the building had been burned, Center spokesperson Glennda Testone reports:
"We called the NYPD, and they immediately dispatched detectives from the hate crimes unit and our local precinct. We also contacted the Anti-Violence Project, and the crime is currently under investigation. We at the Center strive everyday to be a safe space for our community and a beacon of inclusion and hope for the entire city. It is sad that these incidents still happen in this day and age, but rest assured we will do everything in our power to make sure our community is safe.
Most importantly, we will not stand for anyone who thinks they can come to the Center and try to intimidate us. Hate and intolerance against LGBT New Yorkers will not be accepted, and we as a community must stand strong and together in the face of these hateful incidents."
Anyone with information is urged to call the police at 1-800-577-TIPS.