Rufus Wainwright gives an interview to the May issue of Details magazine in which he confesses to a fondness for rapper 50 Cent: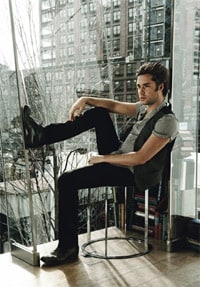 "I love, love 50 Cent. I think he's just the sexiest, and a brilliant writer. And I know he's gay…That cute little voice of his. It's okay, 50 Cent. Feel free to call me anytime. My boyfriend and I are experts. You can come over for dinner. And maybe dessert."
Rick Ross thinks so too. But that visit might be a while.
50 Cent told 'Playboy' in 2004, "I ain't into faggots. I don't like gay people around me, because I'm not comfortable with what their thoughts are. I'm not prejudiced. I just don't go with gay people and kick it – we don't have that much in common. I'd rather hang out with a straight dude. But women who like women, that's cool."
Wainwright adds that he thinks it's cynical to advise musicians, as Steven Merritt apparently did, not to come out: 
"I don't have the energy or the emotional repression to bottle that stuff up. It's true, it's tougher careerwise if you come out, but this is a human-rights issue, and it's important to keep putting dents in it. It's about two teenagers being beheaded for holding hands in Saudi Arabia. It's bigger than someone's music career."