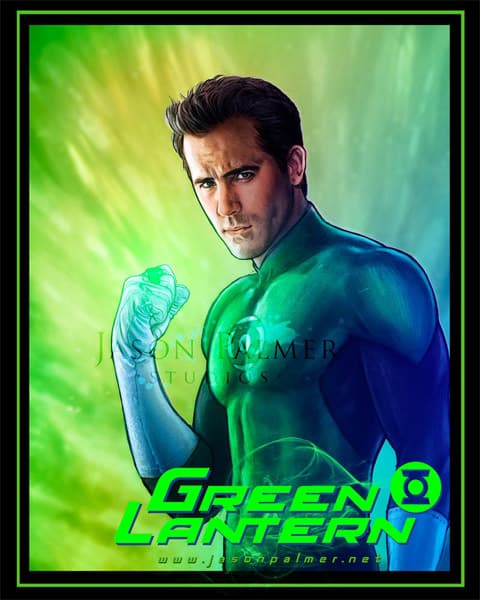 No doubt some of you are looking forward to Ryan Reynolds in the upcoming adaptation of the comic. however, those of you who await a photo of Reynolds in the skintight suit may be disappointed, because Reynolds will never actually wear it.
Slashfilm reports that the costume will be entirely computer generated:
"[Costume designer Ngila Dickson] was tasked with trying to find a way to do something that stands apart from all of the other superheroes spandex suit designs we've seen in the past. Honestly, isn't the look becoming overused?
Remember, the Green Lantern suit is something that should look alien — it needs to seem other worldly. It encompasses any creature that wears the ring, and Hal Jordan is the first human to ever wear the suit. This was a chance for Dickson to do something different. You also have to consider that Hal changes into the suit multiple times in mid scene, and the cg also allows him to do this.
I've heard that when the cg is complete, the suit will look like a manifestation of his power. And while I couldn't confirm this, I've heard that DC's Chief Creative Officer Geoff Johns has seen the designs and given them his blessing.
The suit is lined with white LEDs, which I initially thought might be used to give a practical glow (kind of like how Billy Crudup wore blue LEDs to give the actors around Dr. Manhattan a blue glow in Watchmen), but I've since been told might just be for mo-cap tracking purposes."
Above drawing is a fan-art creation by Jason Palmer.