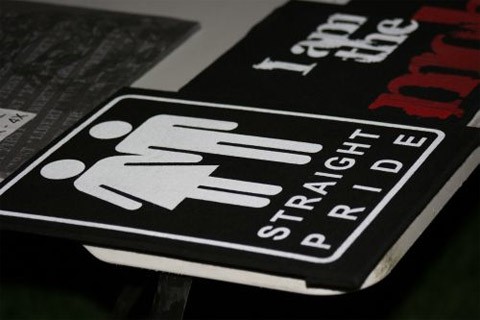 The Michigan Messenger happened upon a vendor selling "Straight Pride" T-shirts at a rally of the Tea Party Express in Lansing, Michigan: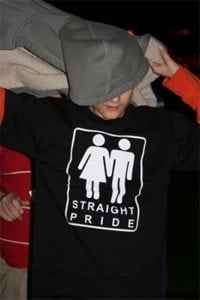 "The person selling the t-shirts told the Michigan Messenger that his company — the name of the company could not be made out on the tape due to a loud blast of noise, but it ended in 'free media' — was an official sponsor and financial supporter of the Tea Party Express, saying that they typically give 10-15 percent of their sales to the organization. He wore a button saying 'official sponsor.' … Gay advocacy groups say the shirts are reminiscent of the 'white pride' slogan adopted by racist groups who oppose equality.
'It's like white supremacy,' says Penny Gardner, president of the Lansing Association for Human Rights, a Lansing area lesbian, gay, bisexual and transgender rights group. 'It's as if they are saying the idea of supremacy is some how the American way. The American way is about equality, and equality is all we're looking for.'" 
Said Marilyn Vogler, spokesperson for the Democratic Party's LGBTA Caucus: "It is clear from events at the April 10 Tea Party Express rally on our capitol steps in Lansing that homophobia and racism are alive and well in Michigan. The day was hi-lighted by stark black and white 'straight pride' shirts, calls to impeach Obama, a poster with a black hand holding a knife stabbing the Statue of Liberty. Certainly, Tea Party folk have a right to express their opinions, but homophobia and racism should not be tolerated, least of all by our elected officials."