Today, the U.S. Supreme Court will hear arguments regarding disclosure of names of signers to a petition seeking a vote to overturn Washington's domestic partner rights.
"The case being argued at the high court Wednesday weighs the right to political speech, unfettered by fear of intimidation, against transparency in government.
Opponents of the law that expanded the rights of gay couples mounted a petition drive that succeeded in getting a referendum on the 'everything-but-marriage' law on last year's ballot. But voters narrowly backed the law that grants registered domestic partners the same legal rights as married couples.
While the campaign was under way, gay rights supporters sought access to the petitions under Washington's open records law. Protect Marriage Washington, the group that organized opposition to the law, objected, saying its members would be harassed if their names were made public."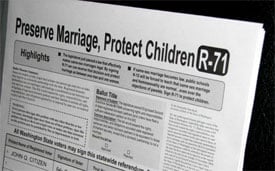 Last September, as the campaign was in full swing, U.S. District Judge Benjamin Settle temporarily barred state officials from releasing the identities of those who signed the petition. In October, a federal appeals court reversed Settle's decision, prompting anti-gays to go to the U.S. Supreme Court. Justice Anthony Kennedy then issued a ruling blocking the appeals court decision. The full court later agreed to take on the case.
Gay rights opponents say referendum signing is like voting, and should remain anonymous.
Referendum 71 was approved by voters on election day, expanding the rights of domestic partners in the state to "everything but marriage". Washington Governor Christine Gregoire and Secretary of State Sam Reed certified the election in early December and the law went into effect.