A teabagger at a Tea Party rally in Greenville, South Carolina late last week gay-baited Senator Lindsey Graham (R-SC), questioning what it is about Graham that separates his values from those of the Tea Party.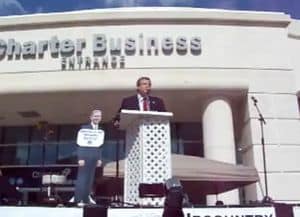 Says the speaker: "Barney Frank has been more honest and brave than you. At least we know about Barney Frank, nobody's going to hold it over his head. Look, I'm a tolerant person. I don't care about your private life, Lindsey. But as our U.S. senator, I need to figure out why you're trying to sell out your own countrymen, I need to make sure you being gay isn't it."
Salon writes: "What's interesting here is the thought obviously running through the speaker's head: that something about the personal features of a politician like Barney Frank or Lindsey Graham explains their otherwise disagreeable behavior. The argument isn't that Frank and, supposedly, Graham, are horrible liberal traitors, and gay to boot. It's that they are, or might be, horrible liberal traitors because they're gay.And once you notice this type of argument here, you realize that it's everywhere. This is the basic case against President Obama as well. It's not just that his policies are bad. It's that he is somehow not one of us, doesn't understand our country and its traditions, and so is in fact working for the other side."
Watch, AFTER THE JUMP…