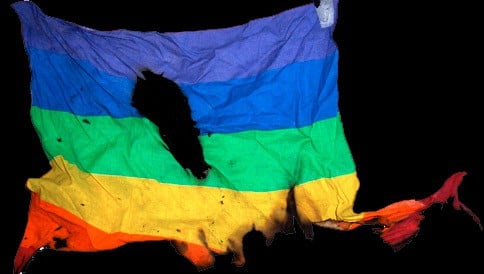 In response to last week's flag-burning hate crime at New York's Gay, Lesbian, Bisexual & Transgender Community Center, center officials will unveil a much larger flag to take its place.
"The Center has partnered with Gilbert Baker, the Rainbow Flag's creator, as well as many elected officials and other organizations to bring together our community and unfurl a new 20 foot long flag that will drape the building. On Wednesday, April 21st at 5:00 pm we will gather together as one to prove that we will not sit idly by while our home is threatened. We invite our straight allies to stand with us to demonstrate that LGBT safety and rights are not just an issue for LGBT people. Our city is strong and we need to come together to show that we cannot be intimidated."
The public is invited to witness the unveiling at 5 pm tomorrow in front of the LGBT Center at 208 w. 13th street in Manhattan.