SOUDER STATEMENT
It is with great regret i announce that I am resigning from the U.S. House of Representatives, as well as resigning as the Republican nominee for Congress in this fall's election.I believe it is the best decision for my family, the people of northeast Indiana, and our country.I will submit my resignation to Speaker Pelosi effective this friday.I can never fully thank all those who have worked so hard, given so much and supported me through eight contested primaries and eight general elections.Only when you have been the recipient can you really feel the humbling power of such generosity.
It has been a privilege to be a part of the battle for freedom and the values we share.It has been a great honor to fight for the needs, the jobs, and the future of this region where my family has lived for over 160 years.It has been all consuming for me to do this job well, especially in a district with costly, competitive elections every two yearsI do not have any sort of "normal" life — for family, for friends, for church, for community.To serve has been a blessing and a responsibility given from God.
I wish I could have been a better example.I sinned against God, my wife and my family by having a mutual relationship with a part-time member of my staff.In the poisonous environment of Washington, D.C., any personal failing is seized upon, often twisted, for political gain.I am resigning rather than to put my family through that painful, drawn-out process.Diane and my family were more than willing to stand here with me.We are a committed family.But the error is mine and I should bear the responsibility,Not only am I thankful for a loving family but for a loving God.My comfort is that God is a gracious and forgiving God to those who sincerely seek his forgiveness as I do.But I am so ashamed to have hurt those I love.I am so sorry to have let so many friends down, people who have fought so hard for me.The ideas we advocate are still just and right.America will survive and thrive when anchored in those values.Human beings, like me, will fail, but our cause is greater than individuals.It is based upon eternal truths.By stepping aside, my mistake cannot be used as a political football in a partisan attempt to undermine the cause for which i have labored all my adult life.I love this area.This is my home.It has been such an honor to serve you.For sixteen years, my family and i have given our all for this area.The toll has been high.As I leave public office, my plans are focused upon repairing my marriage, earning back the trust of my family and my community, and renewing my walk with my lord.I humbly ask you, for the sake of my family that you respect our privacy in this difficult time.I have no further comments.
UPDATED
Rep. Mark Souder (R-IN) is resigning over an affair with a female staffer: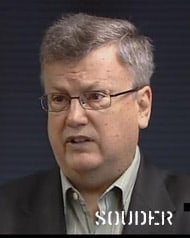 "Eight-term Rep. Mark Souder will announce his resignation Tuesday after it came to light that he was conducting an affair with a female aide who worked in his district office, Fox News has learned.Multiple senior House sources indicated that the extent of the affair with the 45-year-old staffer would have landed Souder before the House Ethics Committee.Elected as a family values conservative as part of the Republican revolution in 1994, Souder survived a tough re-election challenge in 2008 and survived a contested primary two weeks ago.Souder was absent from Washington most of last week, missing multiple votes and only voting on Thursday. While the rumors had been flying, Souder claimed that he was at home tending to his ill wife."
Oh, the hypocrisy. Souder's website reads:
"I believe that Congress must fight to uphold the traditional values that undergird the strength of our nation. The family plays a fundamental role in our society. Studies consistently demonstrate that it is best for a child to have a mother and father, and I am committed to preserving traditional marriage, the union of one man and one woman."
Souder recorded a video PRAISING ABSTINENCE with Tracy Jackson, the aide with whom he had the affair.
Watch the video and read Souder's resignation statement, AFTER THE JUMP…