The CIA debated creating a gay sex tape of Saddam Hussein in order to use its perceived Muslim bias against homosexuality to discredit him, the Washington Post reports: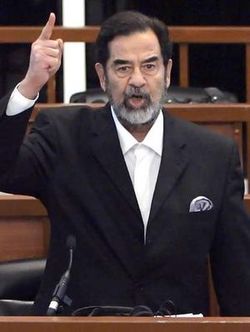 "During planning for the 2003 invasion of Iraq, the CIA's Iraq Operations Group kicked around a number of ideas for discrediting Saddam Hussein in the eyes of his people.
One was to create a video purporting to show the Iraqi dictator having sex with a teenage boy, according to two former CIA officials familiar with the project.
'It would look like it was taken by a hidden camera,' said one of the former officials. 'Very grainy, like it was a secret videotaping of a sex session.'
The idea was to then 'flood Iraq with the videos,' the former official said."
But they apparently did create something in a similar vein:
"The agency actually did make a video purporting to show Osama bin Laden and his cronies sitting around a campfire swigging bottles of liquor and savoring their conquests with boys, one of the former CIA officers recalled, chuckling at the memory. The actors were drawn from 'some of us darker-skinned employees,' he said.
Eventually, 'things ground to a halt,' the other former officer said, because no one could come to agreement on the projects.
They also faced strong opposition from James Pavitt, then head of the agency's Operations Division, and his deputy, Hugh Turner, who 'kept throwing darts at it.'
The ideas were patently ridiculous, said the other former agency officer.
'They came from people whose careers were spent in Latin America or East Asia' and didn't understand the cultural nuances of the region.
'Saddam playing with boys would have no resonance in the Middle East — nobody cares,' agreed a third former CIA official with extensive experience in the region. 'Trying to mount such a campaign would show a total misunderstanding of the target. We always mistake our own taboos as universal when, in fact, they are just our taboos.'"