A Moscow court has upheld the city's decision to ban Gay Pride for a fifth year, Interfax reports: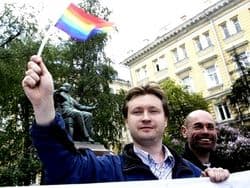 "Moscow's Tagansky Court has upheld a decision by the city's authorities to ban a gay pride parade planned for this Sunday, the parade's organizer Nikolay Alexeyev (pictured, left) said.
'This was a denial. The court found lawful the Central Administrative District prefecture's ban on our three pickets in the center of Moscow,' Alexeyev told Interfax on Thursday.
Alexeyev said he would appeal the ruling with a higher court and with the European Court of Human Rights.
'Naturally, we will appeal this decision. I hope we will reach the European Court as well,' he said.
Alexeyev said the parade would still take place despite the ban.
'Just as we conducted our actions [previously], we will continue to conduct them even despite the absence of permission,' he said."