Daniel Radcliffe wants to look like Cristiano Ronaldo, according to Brit tab The Sun: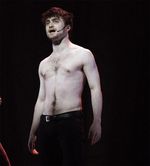 "He faces shirtless scenes as a window cleaner in musical How To Succeed In Business Without Really Trying.
A pal said: 'Daniel wants to completely re-sculpt his body and has taken Ronaldo as his inspiration.
"He envies his muscle definition and is hoping to get a similar six-pack for himself.  Daniel is taking his fitness regime really seriously. He's stopped drinking, knocked the fags (cigarettes) on the head and is watching every mouthful. He put on a little timber last year and is keen to get down to a more svelte shape.  He's already lost nearly a stone in the past month." 
Since he already got naked for Equus I can't imagine he's that concerned. I'm sure there are many eager to see Radcliffe's "timber" no matter what state it's in.