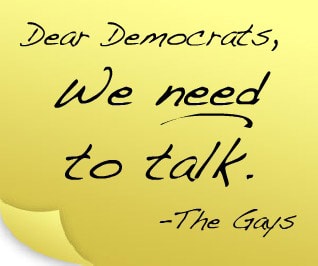 (via)
You were so adorable when we were courting. Sure, you never really understood me, but I liked that you seemed to try. The White House cocktail parties were totally fun, and that Easter Egg Roll is something I'll always cherish. Or remember the time you let me march in the Inaugural parade! Other than that whole Rick Warren thing, I really thought we had a connection.
I know you kept telling me that you weren't ready for marriage, but I was willing to wait since you had promised so much else in the meantime.
But now, I've kind of had it. I'm just not getting what I need out of this relationship. You rarely call me anymore, and when you do it's to ask for money. We talked about joining the military together — but now it seems like you are flaking on that commitment. You promised to protect me from the homophobes at work, but you don't seem to be in a hurry to actually do it. And — that Department of Justice brief thing was just cruel. I'll never understand why you did that.
It almost seems like you're embarrassed by me in public. I know not everyone in your family approves of us, but before you got your new job, it seemed like you didn't care what they thought and were always ready to fight for me. Now, it's like you're a different person.
Please don't take this the wrong way. I still think we have a future. I want us to have a future. But I need this relationship to be healthy for both of us. And I just can't get excited anymore by your empty promises and half-gestures.
I need you to take a real step. You know what I'm talking about — the Employment Non-Discrimination Act and repealing Don't Ask Don't Tell.