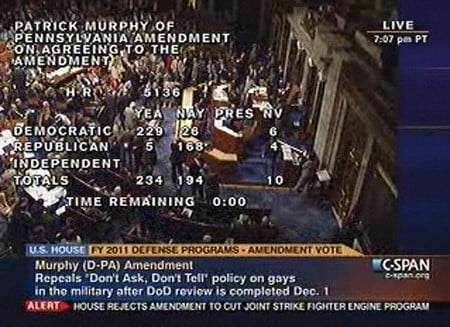 The House of Representatives voted 234-194 to approve an amendment repealing "Don't Ask, Don't Tell". The amendment will be attached to the 2011 Department of Defense Authorization Bill.
Five Republicans, Charles Djou (Hawaii), Joseph Cao (Louisiana), Judy Biggert (Illinois), Ileana Ros-Lehtinen (Florida) and Ron Paul (Texas), joined Democrats in approving the measure.
The NYT: "The House voted on Thursday to let the Defense Department repeal the ban on gay and bisexual people from serving openly in the military, a major step toward dismantling the 1993 law widely known as 'don't ask, don't tell.'
The provision would allow military commanders to repeal the ban, which would permit gay men and lesbians to serve openly in the military for the first time.
It was adopted as an amendment to the annual Pentagon policy bill, which the House is expected to vote on Friday. The repeal would be allowed 60 days after a Pentagon report is completed on the ramifications of allowing openly gay service members. The report is due by Dec. 1."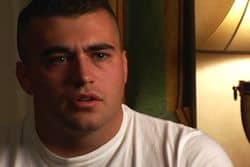 Said Alexander Nicholson, Executive Director of Servicemembers United and a former U.S. Army interrogator who was discharged under "Don't Ask, Don't Tell":
"This second victory for repeal advocates today in the House of Representatives demonstrates real momentum in the battle to finally rid the United States Code of the outdated "Don't Ask, Don't Tell' law. We are especially grateful to the faithful and principled members of the House of Representatives who voted for this amendment, which fully respects the ongoing study, the Pentagon leadership, and the men and women of the U.S. military. We would especially like to express our sincere appreciation for the tireless efforts of Congressman Patrick Murphy and his staff. Congressman Murphy is a true hero and his courageous role in this fight will go down in history."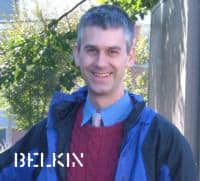 Said Aaron Belkin Director of the Palm Center: 
"It was never going to be easy to dismantle the gay ban, but the White House and Congressional leadership have launched a process that will do just that. For seventeen years, taxpayer money has gone to fire Arabic linguists, doctors and mission critical specialists in every field and every service because they are gay, lesbian or bisexual. Today, the House of Representatives and the Senate Armed Services Committee have said that prejudice cannot be more important than national security. Keeping good troops is good policy."
Said Executive Director of the National Gay and Lesbian Task Force Rea Carey: 
"Today's vote marks a critical step toward closing a shameful chapter in our nation's history, and toward creating a path that could end in men and women being able to serve openly, honestly, and to great benefit of our country. Seventy-eight percent of Americans say they want 'Don't Ask, Don't Tell' repealed, and for good reason: It is discriminatory, outdated and costly. The vast majority of people know that it is wrong to discriminate against patriotic men and women willing to risk their lives by serving in the military. Thousands of qualified service members have already been drummed out of the military for nothing other than bias and prejudice, and thousands more live in fear of losing their military careers.
"While this is an important step toward ending an unjust law, we continue to call for clear assurances of protection, a specific timeline for repeal implementation, and an immediate halt to the discharges. The lives and livelihoods of dedicated service members hang in the balance."