As recently as February, Florida Governor Charlie Crist expressed his support for the ban on gays in the military. Said his spokesperson at that time: "We are a nation at war. The governor believes the current policy has worked, and there is no need to make changes."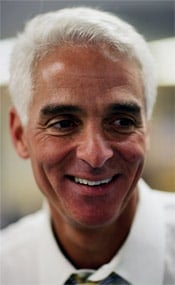 Today, Crist flip-flopped, with this statement regarding the DADT compromise:
"Ultimately, as in all military matters I defer to the Pentagon and to the Generals and what the Senate is doing today is giving them the ultimate authority to do what is best for our military. So, I would be inclined to support the Senate's action on this."
"Crist's claim that the measure gives 'ultimate authority' to the commanders appears to be a reference to the fact that the compromise mandates that the Pentagon complete its study before repeal is implemented.
Nonetheless, Crist's support for the 'Senate's action' is equivalent to support for repeal, because that's what the compromise does.
Crist's backing of repeal is a reflection of how much his political situation has shifted since being driven from the GOP: He now needs to compete with Meek for Dem votes, while simultaneously battling with Rubio for moderate Republicans. He needs support from both camps — hence his backing of repeal, even as he hedges a bit by suggesting he's merely deferring to the commanders.