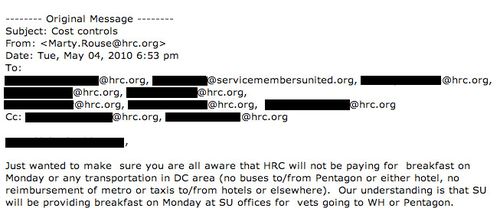 Yesterday I posted a statement from the Human Rights Campaign regarding reports that they had cut transportation for LGBT veterans on the upcoming "Don't Ask, Don't Tell" lobby day to put the funds toward a reception for its Board members.
Said the statement: "HRC is proud to have contributed significant resources to this event including direct costs and significant staff time. Last night the question of paying for a bus came up but contrary to reports, the matter wasn't resolved at that time. We will be paying for bus transportation as we have paid for nearly the entire cost of the event. Never was there a question of prioritizing a reception over transportation."
Pam Spaulding got the same statement. She also received an email from an anonymous source (screenshot above) sent by Marty Rouse at HRC.
Writes Pam: 
Highlighted (see red in HRC statement above) are the problematic areas. The first highlighted area ("Last night…") is not true, according to my source because the bus question did not just pop up anew the previous night; it was brought up in the beginning and discussed numerous times over the past two months. Only now did HRC reverse course on cutting out the bus to transport the vets to the Pentagon despite the fact that the email shows that they had certainly decided to cut it and announced this decision via email to 10 people. Note the topic of the email – "cost controls." 

Also, I was told that nine or 10 people were also present at the recent meeting at which Rouse announced the news that they were now going to add in a Tuesday evening reception at the HRC building for HRC board, steering committee, and regular members who are in DC during the Veterans Lobby Days. Now that the budget for the veterans bus has been restored as a result of the controversy that erupted, there has been talk of canceling or reframing the Tuesday evening members reception.
Pam asks a good question: "HRC is spending how many thousands of donor dollars to put on this Veterans Lobby Day, which is a good political cause — and a good photo op for fundraising.Why would it engage in an incredible public relations disaster of appearing to leave a bunch of veterans sitting at the curb?"
More at Pam's House Blend…