Hundreds of veterans from around the country will descend on Washington D.C. on May 11 and 12 to lobby Congress on "Don't Ask, Don't Tell":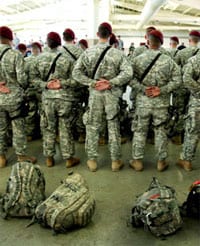 "The National Veterans Lobby Day on DADT, a project of Servicemembers United and the Human Rights Campaign, in partnership with a broad coalition of other pro-military and pro-equality organizations, will take place immediately before the National Defense Authorization Act – the bill that should contain DADT repeal language – is drafted on Capitol Hill."
Today, organizers announced that the Pentagon and White House will now be lobbied that day as well:
"On Monday morning, May 10, 2010, participants already in Washington DC will have the opportunity to attend either a meeting with the Pentagon Working Group on DADT at the Pentagon or a meeting with White House staff in the Eisenhower Executive Office Building. Both of these events will provide able participants the chance to meet with key leaders about DADT in advance of the formal Lobby Day program and Congressional office visits."
In related news, David Mixner sounds off on the recent Gates letter and response from the White House, calling it "simply disgusting".
Tennessee candidates for Congress made some eyebrow-raising remarks about how gays were treated when they were in the military:
"The candidates said ending the policy is 'political correctness' that adds an unnecessary stress on the military.
Kirkland, a Vietnam veteran, said of his time in the military: 'I can tell you if there were any homosexuals in that group, they were taken care of in ways I can't describe to you.'
Smith, who served in the first Iraqi war, added: 'I definitely wouldn't want to share a shower with a homosexual. We took care of that kind of stuff, just like (Kirkland) said.'"
Wingnuts like Elaine Donnelly are weighing in on the DADT delay nonsense.
And finally, as Open Left notes,the patience of Obama's LGBT supporters is "wearing thin". To say the least.