Reports out of Nepal suggest the new constitution being drawn up, which would offer LGBT people equal rights, is in danger of missing a deadline and being lost altogether: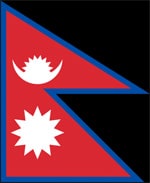 "A specially elected constituent assembly has until May 28 to complete the draft of the nascent Himalayan republic's first constitution, two years after it got rid of the monarchy.
But assembly chairman Subas Nemwang said the panel, dominated by the Maoist former rebels, still had a long list of chores and could take at least four months to complete the task.
'There are difficulties to meet the May 28 deadline. We don't have enough time to follow the procedures and rules,' Nemwang said.
Prime Minister Madhav Kumar Nepal seeks to extend the deadline, saying 'a situation has arisen under which the constitution cannot be made in time', his office said.
And the leader's immediate concern is to ease a political standoff with the Maoists, who demand his resignation to make way for them to head a unity government, a year after they quit.
But the support of the Maoists, who control 40 percent of the seats in parliament, is a must for any change in the schedule.
The Maoists have said an extension of the deadline will be 'meaningless' until the prime minister resigns.
'This government is not keen in pursuing peace and on preparing a new constitution,' Maoist chief Prachanda said at a meeting.
In a sign of a hardening position, a Maoist strike last week closed transports and businesses for six days to press for their demands.
Analysts said missing the constitution deadline would erode the credibility of political parties."