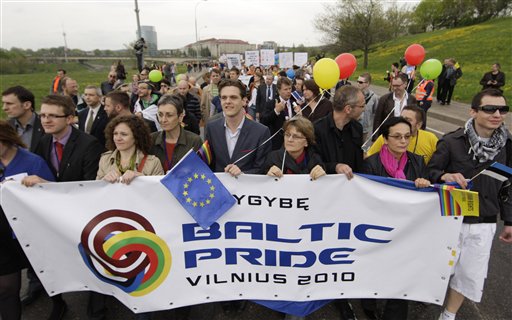 A Lithuanian court this week reversed an earlier decision banning that Catholic-country's first gay pride parade, which took place today with approximately 400 participants. Sadly, it was not without incident.
The Associated Press reports:
Opponents of Lithuania's first gay pride parade threw smoke bombs and tried to break through a barrier Saturday but were stopped by police firing tear gas.

Later, protesters threw rocks and street signs at security forces, and two Lithuanian lawmakers were detained after trying to climb the barrier.

About 400 people took part in the two-hour march — dubbed "For Equality" — in a sealed-off area in downtown Vilnius. Holding large rainbow flags and dancing to music blaring from loudspeakers, they walked along a road near the city's Neris river.

Participants included many foreigners, diplomats and members of the European Parliament.

"We are here because we believe … in a just society. Labels are for filing, for clothing, not for people. And we are here today to remove labels from people," said Birgitta Ohlsson, Sweden's minister for European Union affairs.
According to the BBC, anti-gay protesters threw stones and even fireworks at the marchers. 19 people have been arrested.