Third-degree assault charges have been filed against a Minnesota man who allegedly hit another man because he is gay, WCCO reports: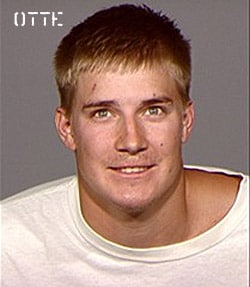 "According to charges filed in Dakota County, 23-year-old Keevn Clarence Otte was seen punching another man at a bar in Randolph, Minn. last Saturday. The victim, who was not named in the charges, required medical treatment at Cannon Falls Hospital.
The victim was talking outside the bar with two other people last Saturday when the altercation started. Otte was also outside the bar at the time.
The victim was observed talking about being gay, and one of the witnesses said it was 'pretty clear' that Otte was uncomfortable with the conversation and did not like the fact that the victim was gay.
One of the witnesses said the next thing he knew, Otte tackled the victim. The victim was bloodied, received a cut on the forehead, and said he remembered a beer mug coming down on the side of his head."
"In an interview with officers, Otte said that he was getting along fine with the men until they began telling him that he looked like a 12-year-old. They then asked him if he was gay, he said, to which he replied, 'No,' adding a slur.
He alleged one of the men approached him quickly, prompting Otte to react out of fear for his safety. He denied striking the victim with anything and did not know how J.W.M. had been cut.
The woman, A.M., said that she went outside the bar with Otte, and heard Otte and J.W.M. argue about whether Otte was gay. She said Otte tackled J.W.M., and she heard glass break. Then, she said, she went back inside the bar."
Apparently she needed a beer.