Ellen Chademana and Ignatius Muhambi, gay activists from the Zimbabwean gay rights group GALZ, were released on bail on Thursday morning: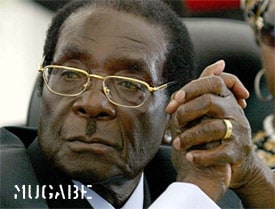 "The two, who are employees of the Gays and Lesbians of Zimbabwe organisation, were admitted to a Harare clinic for medical check-ups following their ordeal at the hands of the police.
Defence lawyer Dzimbabwe Chimbga said his clients were weary and in pain.
The lawyer said Ignatius Muhambi was beaten on his knee caps with empty bottles to get him to reveal the names of other members of the Gays and Lesbians of Zimbabwe Association. The lawyer said Ellen Chademana was forced to do squats.
The pair was finally released on Thursday morning after six nights in police custody."
The activists were arrested for undermining President Mugabe's authority by posting a letter from former San Francisco Mayor Willie Brown on their wall which criticized Mugabe's opposition to homosexuality.