You may remember back in October screenwriter Dustin Lance Black was barred from a forum on Sexuality at Michigan's Hope College because it feared his advocacy on homosexuality "would be too strong for campus."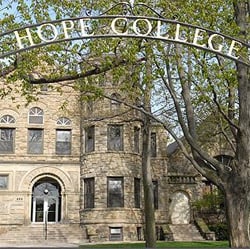 Alumni, student, and advocacy groups petitioned the college to change its policies on homosexuality. The Board of Trustees took up the issue on Friday, but no dice.
"The board of trustees didn't allow a representative of the alumni group to be present or observe its meeting. Finishing its meeting Friday afternoon, the board released a written statement describing its decision and offering an explanation:
'The college's current position on homosexuality is based on its interpretation of scripture. It is recognized that well-intentioned Christians may disagree on scriptural interpretation. Still, humbly and respectfully, the college aligns itself in its interpretation with its founding denomination, the Reformed Church in America, the orthodox Christian Church throughout the ages, and other Christian colleges and universities.'
As a part of its action, the board created a trustee committee to 'expand the college's 1995 position statement in the larger context of all human sexuality.'"