Since Andy was doing such a fine job of covering the fallout fromNewsweek's heinous article about gay actors being far less talentedthan their straight counterparts (that's the argument once you break it down), I opted not to write about it here. I did say my bit, though,because anybody who'd like to impune the talents of Sir Ian McKellenand Montgomery Clift and [insert dozens of other legendaryacting giants here]  has it coming. It's depressing that Setoodeh is being rewarded forhis loud internalized homophobia. Set visits to Glee? We should all be so lucky to have our worst character traits punished in that way.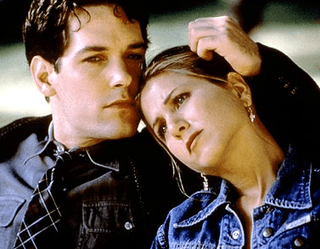 Remember that "I love him. If only he weren't gay!" movie The Object of My Affection? Its stars, Paul Rudd and Jennifer Aniston, will reteam for a comedy about a married couple who live in a commune. We assume that this time  Paul will return Jen's affections. She's so damn needy.

First look at Ryan Reynolds as superhero Green Lantern. Sort of. It slightly reminds us of this week's 30 Rock episode and Tracy's Garfield 3 hilarity.

Battlestar Galactica's hunky Apollo Jamie Bamber is returning to sci-fi for Outcasts. Will he run around half naked this time?

Can we expect a mini Antonio Banderas revival in the next couple of years? He's recently signed on to the new Pedro Almodóvar project, said no to Dancing With the Stars and is now returning to Broadway for a musical revival of Zorba. They're good choices on paper. Can he regain that early 90s mojo twenty years later?
The Classics

In light of this weekend's big release, let's end by praising the charms (and physique) of the best silver screen Robin Hood, Errol Flynn.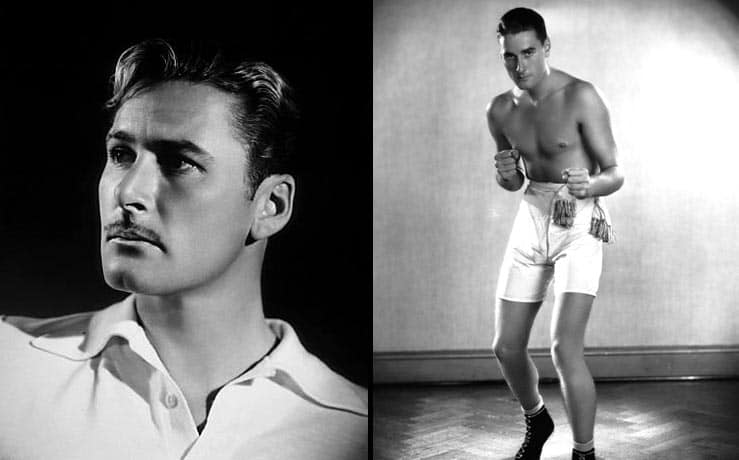 There have been dozens of other men in tights and there will surely be more to come but will any of them ever measure up to Hollywood's Greatest Swashbuckler?

NATHANIEL ROGERS
…prefers air conditioned movie theaters to hot beaches in the summer. He blogs daily at the Film Experience.
Now Playing
Have you ever wondered how so and so (any legend will do) came to be so mythic and celebrated? Never fear, moviemakers are always searching for some immortal tale to demystify. They're such killjoys. The critical buzz on ROBIN HOOD, opening today, suggests that the movie could have used a little less grey sobriety and more of a leafy-green adventurous spirit. Since it's an origin story Robin's Merry Men don't really factor in. It's unsurprising to hear that the film is light on the fun that usually permeates tellings of this tale and not just because it's a prequel. Director Ridley Scott and star Russell Crowe aren't exactly merry men themselves. Scott is a serious manly auteur and Crowe is… well, he's still who he is. This is the Gladiator pair's fifth film together in ten years and, like Tim Burton & Johnny Depp, one can't help but wonder if it might give their creativity a fresh new spark if they spent a couple of films apart. Hope springs eternal that Scott will one day make something as strong as Blade Runner (1982) or Thelma & Louise (1991) again.
Also opening: Letters to Juliet with Amanda Seyfried and Vanessa Redgrave, Princess Kaiulani with Q'Orianka Kilcher (from The New World) and Just Wright with Queen Latifah and Common.
Bonus Scenes

The Cannes Film Festival just kicked off and this year we'll see the first Queer Palm award. Whether or not you think that's putting gay films in an inappropriate ghetto, one has to imagine that 21 year old Canadian Xavier Dolan (pictured below) might win. His debut I Killed My Mother was a breakout hit there last year (It's still awaiting US release. What is that about?). His second film is called Les Amours Imaginaires.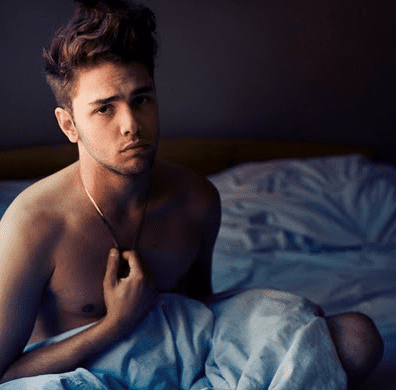 It looks terrific. See Les Amours Imaginaires trailer, AFTER THE JUMP…
 
Plus: Newsweek Vs. The Gays, Paul Rudd, Antonio Banderas and Ryan Reynolds.