Brian Ellner will be named executive director of New York gay rights group Empire State Pride Agenda, City Room reports: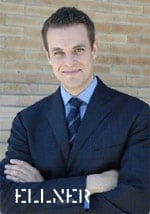 "Brian Ellner, who serves as Mr. Klein's senior counselor for community affairs, is expected to be approved next week by the Pride Agenda's board of directors, according to someone with direct knowledge of the board's plans who was not authorized to discuss it publicly.
Mr. Ellner would replace Alan Van Capelle, who left the organization in January to take a position with New York City Comptroller John C. Liu.
Mr. Ellner would assume leadership of the organization at a time when it is trying to regroup after suffering the most significant setback of its 20-year history. A Harvard and Dartmouth graduate who ran unsuccessfully for Manhattan borough president in 2005, Mr. Ellner would help coordinate the next effort to pass legislation to legalize same-sex marriage in Albany."
Ellner is currently senior counselor for community affairs for Schools Chancellor Joel Klein.