This is "do or die" week for repealing "Don't Ask, Don't Tell" and the Washington Post weighs in on where we're at:
The Senate Armed Services Committee is expected to vote by the end of the week on an amendment to the annual defense spending bill that would end "don't ask, don't tell," which Congress passed in 1993. Chairman Carl M. Levin (D-Mich.) favors a repeal, but it is unclear whether he has enough votes, with six senators on the panel considered undecided, legislative sources said.

The House is expected to vote on a similar measure this week, based on a repeal proposal sponsored by Rep. Patrick J. Murphy (D-Pa.), an Iraq war veteran. The House Armed Services Committee declined to act on Murphy's bill in passing its version of the defense spending measure last week, but Speaker Nancy Pelosi (D-Calif.) has told gay advocacy groups that she will allow a floor vote if there is enough support in favor of a repeal.

"This is our 'all hands on deck' moment," said Aubrey Sarvis, executive director for the Servicemembers Legal Defense Network, which represents gays who have been drummed out of the armed forces. "For repeal to succeed, it is critical that all proponents for full repeal weigh in now, including the White House. We are only a few days away from this historic vote."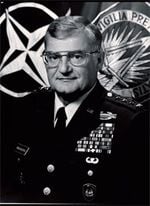 Former Chair of the Joint Chiefs John Shalikashvili wrote an editorial in Saturday's Washington Post advising Congress to repeal DADT now, and let the Pentagon act later.
Writes Shalikashvili: "'Don't ask, don't tell' is both a federal law and a Pentagon policy. The law ties the military's hands on this issue. If Congress fails to repeal it, the Pentagon's study process will be compromised because the Defense Department will not have the authority to implement its own recommendations.
Fortunately, there is an option that fully respects the secretary's request to Congress while moving forward on a reasonable timetable. Congress could repeal the federal statute and return authority to the military to set rules about gay troops, just as the armed services had before "don't ask, don't tell" became law in 1993."
A NYT editorial on Friday offered similar advice.