Omar Bonilla, a 19-year-old student at Flanagan High in Pembroke Pines, ran for prom queen and was one of the top three in the running, but school officials said they feared for his safety and forbid him from coming to prom in drag. They also found a convenient way to bar him from doing so — by citing and suspending him for parking in a visitor's spot in the school parking lot.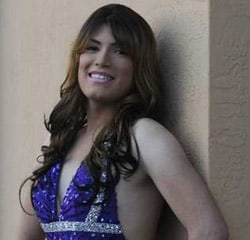 Bonilla was then invited to a Pridelines gay prom, the Miami Herald reports, but while he found acceptance there, his parents have thrown him out on the street:
"Dressed in drag, Bonilla attended the Pridelines party — along with 250 other youths from Miami-Dade and Broward counties — and won the prom queen title.
'My message is to be true to yourself and don't be scared of what people say to you,' Bonilla said. 'Don't be scared to be open and show your true colors. Don't care what people say, and be strong.'
The school flap and resulting publicity helped Bonilla achieve his dream, but it also cost him — his parents on Sunday told him to turn in his keys and leave home, he says. His parents could not be reached for comment.
'I got all my belongings in the car,' he said.
Bonilla said he would stay with friends overnight and that he hoped to live with relatives."