Nancy Pelosi told gay leaders and press on a conference call yesterday that she has "no intention of losing on either" DADT repeal or ENDA and discussed issues for both measures, the Advocate reports.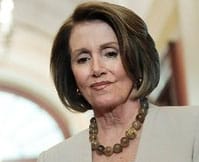 A vote on "Don't Ask, Don't Tell", once it's added to the Defense Authorization bill, looks likely next week. 
A vote on ENDA, if it's not called this week, would likely come the second week of June.
Pelosi also raised the specter of a motion to recommit from GOP members of the legislature, and it could get very ugly — so ugly they won't discuss it in specifics:
"But some Hill observers think the motion to recommit could go beyond a simple effort to strip out gender identity protections to being something more hostile, more depraved in the way it targets certain segments of the transgender community. At the same time, advocates decline to guess at the language publicly for fear that it might actually be adopted by the right and used against them. But there is no way to know if a motion to recommit will be offered or what the nature of such a motion would be until the legislation comes to a vote."