UPDATED BELOW
Yesterday I posted about the lobby days next week during which hundreds of veterans are traveling to Washington D.C. to lobby Congress, the White House, and the Pentagon on 'Don't Ask, Don't Tell'.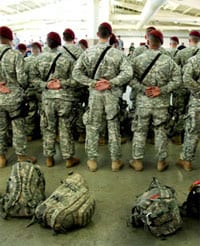 Americablog has a rather maddening report on planning underway for the event:
"I hear that HRC has just pulled out of its agreement to pay for a bus to shuttle 50 veterans in town for the 'Don't Ask, Don't Tell' Veterans Lobby Day. The bus was to transport the vets to the Pentagon to meet with the Pentagon Working Group on DADT. What did HRC put that money to instead? A previously unscheduled reception for its board and steering committee members. Apparently showing off the event to the board is more important than actually making the event as effective as possible.
A source at Servicemembers United, the other main organizer coordinating the Veterans Lobby Day, who spoke on condition of anonymity, said that '[we] have to fight a new battle every day, sometimes multiple times a day, with HRC to get them to simply do the right thing and put the interests of these vets and the issue ahead of [HRC's] own organizational self-promotion. It's really beyond belief.'"
UPDATE…
Upon inquiring about the report, HRC released this statement to Towleroad:
"HRC is proud to have contributed significant resources to this event including direct costs and significant staff time. Last night the question of paying for a bus came up but contrary to reports, the matter wasn't resolved at that time. We will be paying for bus transportation as we have paid for nearly the entire cost of the event. Never was there a question of prioritizing a reception over transportation."