Are they really that stupid? 
Well, true reality TV famewhores have no fear when it comes to these things: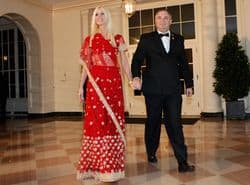 "The Salahis were stopped by the U.S. Secret Service last night at around 8 p.m. ET during the State Dinner for Mexican President Felipe Calderon as their stretch limousine ran a red light and seemed to be trying to turn into a restricted area near the White House, ABC News has learned.
A Secret Service Uniformed Division officer 'observed a stretch limousine pass through a red light at 15th and Constitution,' Edwin M. Donovan, the Special Agent in Charge for the U.S. Secret Service told ABC News. 'The vehicle then signaled that it was turning into the Ellipse parking area at 16th and Constitution, a restricted area.'
Donovan said the 'vehicle was subsequently stopped at 17th and H Street and it was then learned that Tareq and Michaele Salahi were among the occupants of the vehicle. The driver and occupants of the vehicle were interviewed at this point. The driver was issued a notice of infraction for passing through a red light and all the subjects in the vehicle were released.'"
Apparently they were dressed in a white mink coat and a suit.
The Caucus reports that they were spotted later having dinner at a nearby restaurant. It's unclear, however, why they tried to turn into the restricted area by the White House.
The Salahis were cast on The Real Housewives of D.C. 
(via americablog)