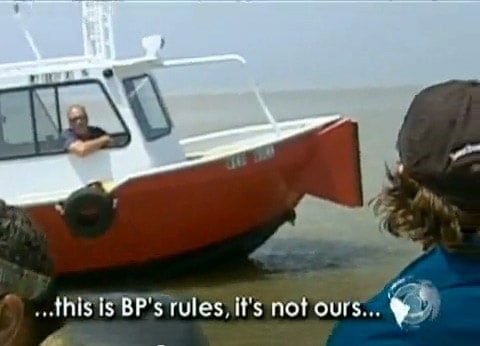 When CBS journalists tried to film areas in Louisiana where the oil spill was coming ashore, they were confronted by a boat carrying two Coast Guard officers and several BP contractors, that they must leave or be arrested.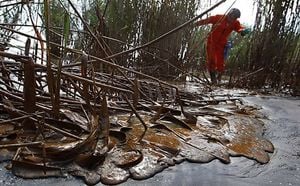 Video, AFTER THE JUMP…
Heavy oil has begun to come ashore in Lousiana's marshes, the Washington Post reported Wednesday:
"A tide of sludgy oil has begun washing into the fringes of Louisiana's coastal marshes, officials said Tuesday, as BP continued to siphon some of the oil gushing from a damaged well on the gulf floor but remained days away from trying to cap the leak."
Photo gallery here.
In related news, the Whale Shark, the world's largest fish, is extremely threatened by the spill: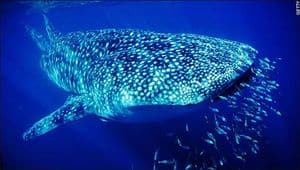 "The world's biggest fish may be highlyvulnerable to the Gulf of Mexico oil spill and one of its favoritefeeding grounds is in the area of the spill.Whale sharks feed on the surface, sucking plankton, fish eggsand small fish into their mouths. Surface oil could clog thecartilage filter pads that direct food to the back of their throat,and could coat their gills while they feed, said Eric Hoffmayer, aresearcher at the University of Southern Mississippi who has beenstudying whale sharks in the northern Gulf since 2002."If it did get their gills coated, I can only imagine theywould suffocate relatively quickly," he said.More than one-third of all whale shark sightings in the northernGulf since 2002 have been off the mouth of the Mississippi River,Hoffmayer said."
Here's the latest image shot from space showing the extent of reflective surface sheen (false color image):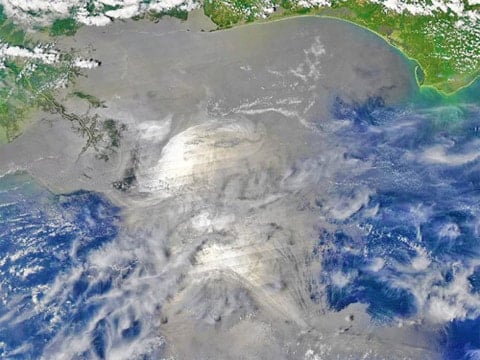 International Space Station Commander, cosmonaut Oleg Kotov said of the spill: "It looks very scary. It's not good. I really feel… not good about that."
Watch the CBS News report, AFTER THE JUMP…