Gray whale populations exist only in the Pacific, along the California and Mexican coast and then migrate north to Alaska and Siberia.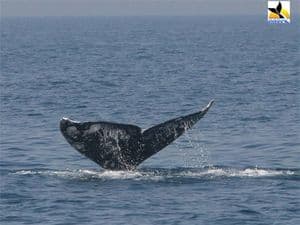 Scientists were stunned, then, last Saturday, to spot a Gray whale swimming in the Mediterranean — off the coast of Israel, near Tel Aviv:
"For about two hours, the researchers followed the whale as it swam slowly south along the coast; noting its size and the fact that it had a dorsal hump rather than the dorsal fin characteristic of most baleen whale species, they concluded that it was a sperm whale – exciting news indeed, as they had not before seen a sperm whale in the region.Yet, some things weren't quite right: The blowhole of a sperm whale is close to the front of the head, but on this whale it was clearly situated further back. The dorsal region wasn't wrinkled the way it should have been, and the skin was patchy in color. It was only after returning to shore and closely examining the photographs they had taken that the researchers allowed themselves to acknowledge that what they had seen was, in fact, a gray whale.There was only one problem.There are no gray whales off Israel. There are no gray whales in the Mediterranean.There are, in fact, no gray whales in the Atlantic – have not been, for that matter, since the eighteenth century, when the species was possibly exterminated from the hemisphere by commercial whalers."
One scientists theorize the ice-free Northwest Passage may have provided a route for the whale, which now seems to be lost.
Watch video of the whale, AFTER THE JUMP…