Senator Robert Byrd has said he'll vote yes on the "Don't Ask, Don't Tell" repeal compromise, but wants language added that would allow for a 60-day review period of the implementation policy by Congress once it's certified, Wonk Room reports.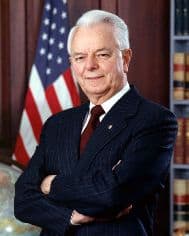 Said Byrd: "This period of time will allow the Congress, along with the American people, to thoroughly review the proposed policy recommendations to ensure that these changes are consistent with the standards of military readiness, military effectiveness, unit cohesion, and recruiting and retention for our Armed Forces." "With these changes, I will support the amendment expected to be offered by Senator Lieberman to the Department of Defense Authorization bill."
Wonk Room adds: "The new language will presumably send the issue back to Congress even after the results of the Defense Department review are certified by President Obama, Secretary of Defense Robert Gates and Joint Chiefs Chairman Mike Mullen. The full compromise now looks something like this: 1) Congress passes repeal as an attachment to the defense authorization bill, 2) once the study is completed on December 1, officials will certify that it does not undermine military effectiveness 3) once it's certified, Congress has 60 days to 'review' it before DADT is repealed."
And what happens should Congress not approve?