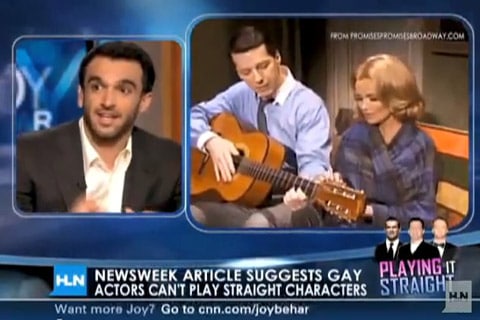 Newsweek writer Ramin Setoodeh, who asserted in a recent Newsweek article that gay actors can't play straight roles, joined Joy Behar, Dan Savage, and Amanda Bearse last night, to discuss his piece.
Watch it, AFTER THE JUMP…
The article has angered many people and inspired furious responses from Kristen Chenoweth, Michael Urie, and Cheyenne Jackson. 
Yesterday, Glee creator Ryan Murphy called for a boycott of Newsweek magazine over the story:
"I would like to join my good friend Kristin Chenoweth on her condemnation of a recent Newsweek article written by Mr. Ramin Setoodeh, in which Setoodeh basically says that out gay actors should go back into the closet and never attempt to play straight characters. This article is as misguided as it is shocking and hurtful. It shocks me because Mr. Setoodeh is himself gay. But what is the most shocking of all is that Newsweek went ahead and published such a blatantly homophobic article in the first place…and has remained silent in the face of ongoing (and justified) criticism. Would the magazine have published an article where the author makes a thesis statement that minority actors should only be allowed and encouraged to play domestics? I think not.Today, I have asked GLAAD president Jarrett Barrios to stand with me and others and ask for an immediate boycott of Newsweek magazine until an apology is issued to Sean Hayes and other brave out actors who were cruelly singled out in this damaging, needlessly cruel, and mind-blowingly bigoted piece. An apology should also be issued to all gay readers of the magazine…
Setoodeh wrote a follow-up piece for Newsweek, in which he said readers "missed the point":
"Over the weekend, I became the subject of a lot of vicious attacks. I received e-mails that said I will be fired, anonymous phone calls on my cell phone and a creepy letter at my home. Several blogs posted my picture, along with a link to my Twitter feed. People commented about my haircut, and that was only the beginning. I was compared to Ann Coulter and called an Uncle Tom. Someone described me as a "self-hating Arab" that should be writing about terrorism (I'm an American, born in Texas, of Iranian descent).

But what all this scrutiny seemed to miss was my essay's point: if an actor of the stature of George Clooney came out of the closet today, would we still accept him as a heterosexual leading man? It's hard to say, because no actor like that exists. I meant to open a debate—why is that? And what does it say about our notions about sexuality? For all the talk about progress in the gay community in Hollywood, has enough really changed? The answer seems obvious to me: no, it has not."
Watch, AFTER THE JUMP…