Mr. President, my unit is extremely undermanned. We're working around the clock in Baghdad. My commander informed me that the Army cannot afford to lose me. I was told that they would prepare my discharge paperwork, "stick it in a Manila envelope, and keep it in a desk — for now."
One moment they wanted to throw me out and the next they are hiding evidence to keep me in.
My comrades now know that I am gay, and they do not treat me any differently. Work runs as smoothly as ever, and frankly the only difference I see — besides my pending job loss — is that I am free of the burden of having to constantly watch my words and ensure my lies are believable.
Having this out in the open makes things a bit less stressful. But it's also clear the Army is only keeping me around until they are done with me. After I have served my two deployments — and only a year shy of separating from the military honorably — I suspect they will kick me to the street.
It's bad enough that there is a law that denies tens of thousands of service members from serving with integrity, but it's even worse when such a law is carried out with such inconsistency, without any warning of when it might come down.
If my suspicions are true, my discharge will move forward after my deployment. I am good enough to serve in war, but not at peace? I will never be at peace until this law is repealed – and neither will my partner. In fact, he won't even be informed if I am killed in action. That might be the hardest part for us both.
Mr. President, when you took office I remember watching your inauguration knowing that history was being made. I remember feeling like this weight was being lifted off of my shoulders. I truly believed in you, and I still do.
But, Mr. President, please keep your promise to me.
Please do everything in your power to help Congress repeal "Don't Ask, Don't Tell" this year. Our government called upon us to fight for our country. So many of us answered the call; we did not delay. We were sent world's away to defend your freedoms. Mr. President, won't you fight for mine?
With deep respect,
A soldier returning to Baghdad
(The writer is currently serving and unable to identify himself publicly.)
PREVIOUS LETTERS FROM THE FRONTLINE…

April 27 – Captain Joan Darrah
April 28 – LCpl Danny Hernandez
April 29 – An Active-Duty Military Chaplain
April 30 – Captain Rebecca H. Elliott
May 4 – Former Ssgt Anthony Loverde
May 5 – Former First Lieutenant Laura Slattery
May 6 – Former Staff Sergeant Anthony Moll
May 7 – Clifton Truman Daniel
May 10 – Former Sgt. Tracey L. Cooper-Harris
May 11 – Former Petty Officer 2nd Class, U. S. Navy Jason Knight
May 12 – Chief Hospital Corpsman Brian Humbles
May 13 – Former SSgt David Hall
"Stories from the Frontlines: Letters to President Barack Obama" is a new media campaign launched to underscore the urgent need for congressional action and presidential leadership at this critical point in the fight to repeal "Don't Ask, Don't Tell" (DADT).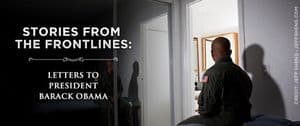 As we approach the markup of the Defense Authorization bill in the Senate and House Armed Services Committees, SLDN and a coalition of voices supporting repeal, will share open letters to the President from a person impacted by this discriminatory law. We are urging the President to include repeal in the Administration's defense budget recommendations, but also to voice his support as we work to muster the 15 critical votes needed on the Senate Armed Services Committee to include repeal. The Defense Authorization bill represents the best legislative vehicle to bring repeal to the president's desk. It also was the same vehicle used to pass DADT in 1993. By working together, we can help build momentum to get the votes! We ask that you forward and post these personal stories.
*****
May 14, 2010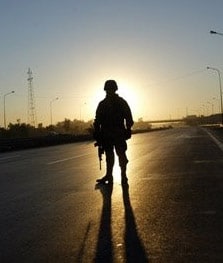 President Barack H. Obama
The White House
1600 Pennsylvania Avenue Northwest
Washington, DC 20500
Dear Mr. President,
I am writing to you from a kitchen in the state of Washington. The love of my life is in the other room. It has been eight months since I saw him last and I cherish every moment we spend together. Next week, my mid-tour leave will be over and I will return to Iraq and finish my second deployment. I don't know when I'll see my partner again.
When serving in a war zone, you learn quite a bit about yourself and what's important to you. I've had the chance to work on a close and personal level with the people of Iraq, and in doing so, I have realized more than ever that the freedoms we enjoy as Americans should not be taken for granted – we must protect them at all costs. These freedoms are essential to the very foundation of our society. Yet so many men and women who fight for these freedoms aren't allotted their own. Our freedom to love and be loved by whomever we choose. The freedom to live of a life of truth and dignity.
Recently I was informed that the military was investigating me for violating the "Don't Ask, Don't Tell" law. Another service member had apparently "outed" me. At first I felt free: I didn't have to lie anymore. But after that initial sense of relief, I'm left knowing just how little the Pentagon and the United States government think of me.
Continued, AFTER THE JUMP…