The Supreme Court has refused to hear an appeal from the San Diego Chapter of the Boy Scouts of America who were refused a lease on a piece of land because of their religious affiliations: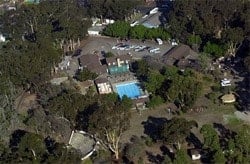 "U.S. District Judge Napoleon Jones Jr. ruled in 2003 that San Diego acted improperly when it leased 18 acres of camp space to the Scouts because the group is a religious organization. The judge said the lease violated federal law that prohibits the government promotion of religion.
The Boy Scouts say they have no theology and only hold the position that children should 'do duty to God' to become productive citizens.
The American Civil Liberties Union had sued San Diego and the Boy Scouts in August 2000 on behalf of a lesbian couple and an agnostic couple, each with scouting-age sons. They filed the lawsuit after the City Council voted to extend the group's 50-year lease for another 25 years."
SCOTUS decided to let Jones' ruling stand.